ACTIVATE: EBA Live Conference Review
I attended the ACTIVATE: EBA Live Conference and have been so excited to share my review of the conference. As an Elite Blog Academy alumni, this was a great way to attend a conference where I could meet a lot of fellow bloggers who have also taken the course.
What is EBA?
EBA stands for Elite Blog Academy. This is a really popular blogging course geared towards bloggers at all levels. I took the course as a new blogger and it really helped me get a grasp on how blogging works overall. As the course gets an update every launch, I am able to go through the new material. All EBA alumni students are granted permanent access to the course! You can learn more about EBA here.
What is ACTIVATE: EBA Live?
ACTIVATE: EBA Live is a new conference that was created by Ruth Soukup from Living Well Spending Less. As Elite Blog Academy has grown in popularity, Ruth and her team hosted their first conference in Portland, Oregon in September 2017. In 2018, the conference will be held in Orlando, Florida.
The conference consisted of two parts :
Pre-conference workshop that was held on Thursday from 8am-5pm and Friday from 8am to 3pm
Main conference event started Friday night at 7:30pm, continued on Saturday 8am-6:30pm and wrapped up on Sunday 8am-6pm
There's also the option to upgrade as a VIP member, which I took part in. This meant I got extra access to the event, including a cocktail party (and got to hang out with Ruth) as well as other awesome perks.
There is SO MUCH to discuss about this conference, but I'm primarily going to review the pre-conference workshop, as that's where I got the most value from a learning perspective. The entire conference was excellent and this post could easily be 10,000 words, but I am trying to have some control over what to write about, ha!
ACTIVATE: EBA Live hotel and location
The conference was held in Portland, Oregon. In 2018, the conference will be help in Orlando, Florida. I roomed with a friend and stayed at the hotel where the conference was held.
It seemed pretty common for attendees to room with someone else to save money! I also know some people that stayed at neighboring hotels as well as went the AirBnB route to save even more! Here's a $35 coupon for AirBnB.
I personally preferred to stay at the hotel. I liked being able to go up to my room in between sessions for some down time and it was fun to bump into people in the elevator, bar and in the bathroom, ha!
ACTIVATE: EBA Live pre-conference workshop
This was my favorite part of the entire event. I had some reservations going into the conference about the material that would be presented. The topic of the pre-conference workshop was geared around 'launching your first product'.
As I've launched several different products, I was a little hesitant about the subject material. In my head I was thinking, what could I possibly learn?
Well yeah, I was wrong! SO wrong!
I cannot even begin to tell you how much I learned in the two day workshop.
First of all, Ruth spoke both days, all day long. I don't know how she did it! She was also completely transparent about her businesses and nothing was off limits. At the end of each session, there was a Q+A period and she answered every question. Literally, every question. 
In the course of two days, I probably took over 30 pages of notes, a million photos of slides (yup, pics were allowed!) and left with a million ideas.
Ruth knew that some (many?) of us already had products, but she went in deep about all areas of launching products. Here's some of the topics we covered:
How to select your product
How to test if your product will be a success before launching
Waitlists / Opt-Ins
How much is too much info to give away
Bonuses (like, what kind of bonus you should give and the reason behind it)
Sales sequences
Email funnels
Fine tuning your product
How to organize the entire launch (systems, methods, etc.)
Even though I've already launched products, I quickly realized there were areas I could greatly improve upon with every product that I have.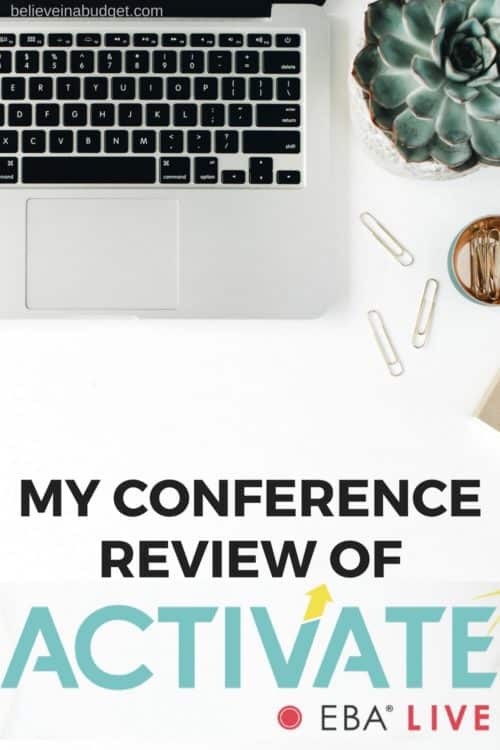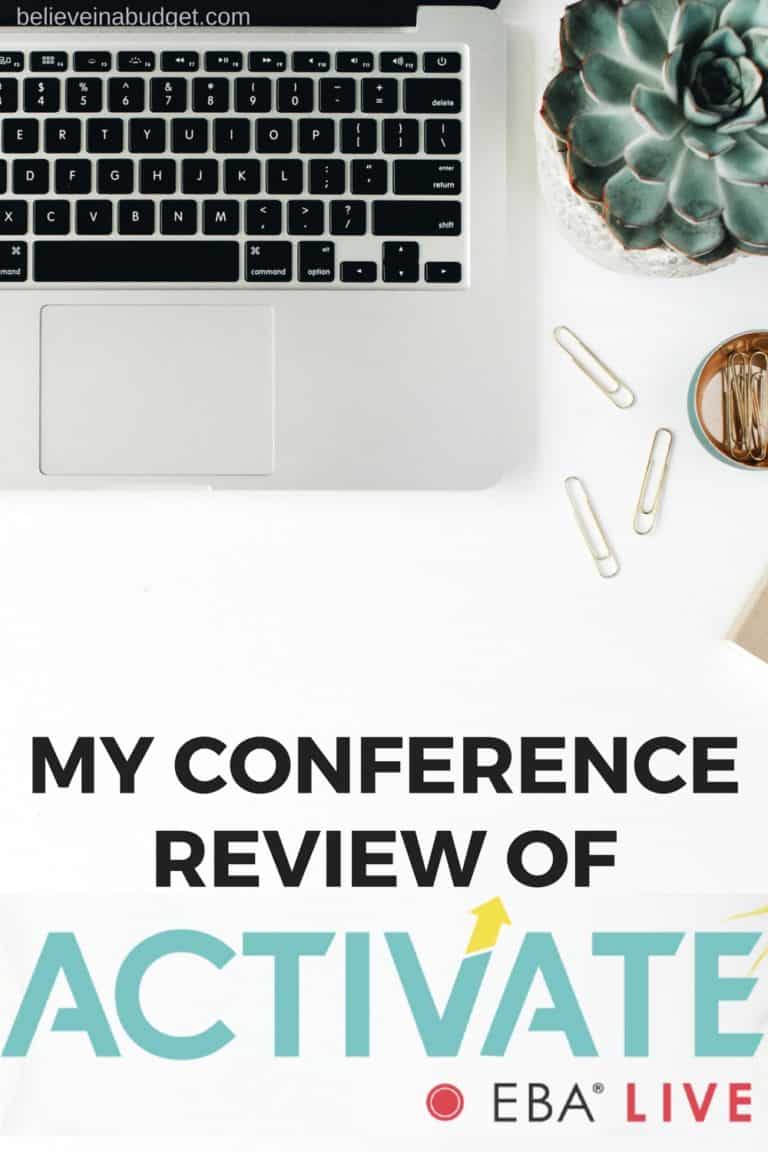 ACTIVATE: EBA Live pre-conference workshop vibe
The attendees at the pre-conference brought their A game.
Audience size? I would say there was roughly a few hundred people at the ACTIVATE: EBA Live pre-conference workshop.
While I don't know official statistics, everyone I spoke to seemed pretty invested in their blog and/or business. People were obviously there to learn and implement.
The energy was electric! Seriously, being surrounded by people who were investing in themselves and their blogs/businesses was inspiring and exactly what I needed.
When reviewing email funnels (you guys, like deep intense email funnels and sequences) it was like lightbulbs went off in everyone's heads.
Ruth brought up points that I had never thought about, which immediately made me want to go review all my own material.
Everyone was super friendly, happy to be there and there was a lot of positivity.
We had 'break out' sessions throughout the day. You basically just formed circles of anywhere between 4-8 random people and talked for 30-45 minutes about the topic that Ruth has just discussed.
While I'm a bit of an introvert, the groups were small enough that I felt totally comfortable talking to strangers.
Free 7 Day Blogging Course via Email
Join thousands that have learned how to start and grow a profitable blog. Sign up for free tips below and get started right now!
My 'circle' was really diverse! One girl had a Christian homeschool blog, one couple had a blog that focused on faith/relationships, Gina (from HorkeyHandBook) and myself – all very different.
It was awesome learning how they make a full time living from their blogs and businesses, what products they sell and their struggles. I think we all laughed and cried at some point 🙂 The determination in my group was unbreakable!
The dress code was casual, thank goodness! Many of us were in jeans, comfy shoes and had cardigans/sweaters incase it got cold. Lunch was included both days and really good – everyone seemed super happy about the free food, ha!
Also – many of you know I am coffee obsessed. It's killing me that I didn't take a picture of the 'coffee bar' at the workshop. You guys, aside from the coffee, there were tons of options for different types of creamers, milk, whipped cream and get this – shaved chocolate. Yup, I was able make a custom shaved chocolate whipped cream coffee whenever my heart desired. I mean, seriously?!
ACTIVATE: EBA Live main conference
The regular conference felt totally different than the pre-conference workshop. It was much larger – there were so many people! At the main conference, it definitely felt a little dressier (think cute business casual), we were in a larger space and the ballroom was decked out and set up really cute. Everyone sat at round tables and there was a large, main stage.
Like a traditional conference, the lineup of speakers was pretty diverse! Sessions were one after another (with breaks in between) and all in the same room.
Whether you signed up for the pre-conference workshop or the main conference, you could also set up a 1:1 meeting from a list of all-star bloggers (Ruth's VIP group) and pretty much discuss anything!
The only downside was the meeting could only last for ten minutes, and let me tell you, ten minutes goes by fast. If I could change anything, it would be for longer 1:1 sessions!
Fortunately, I went into my 1:1 meeting prepared with specific questions. My focus was on Facebook ads, so I made sure to sign up with someone I consider to be really successful in this area. I got a lot of value out of my meeting, primarily because I came prepped with a cheat sheet of my stats, target audience, what I wanted to promote on Facebook, etc.
This allowed my VIP to scan my cheat sheet and give me solid feedback. So if you have a 1:1 meeting at the next conference, go in prepared with as much information as possible.
Finally, I was able to connect with fellow bloggers that I've only talked to online for the past couple of years. How crazy is that?! I even co-hosted a casual get together where I could meet with readers of this blog 🙂 It was fun to connect and hang out!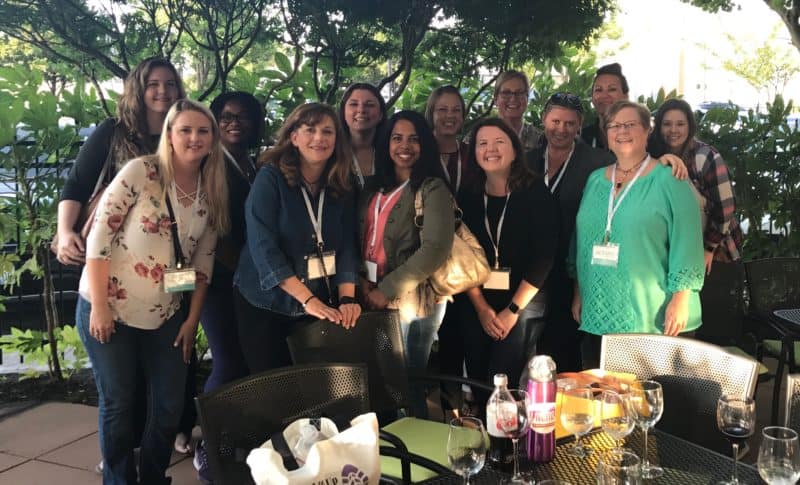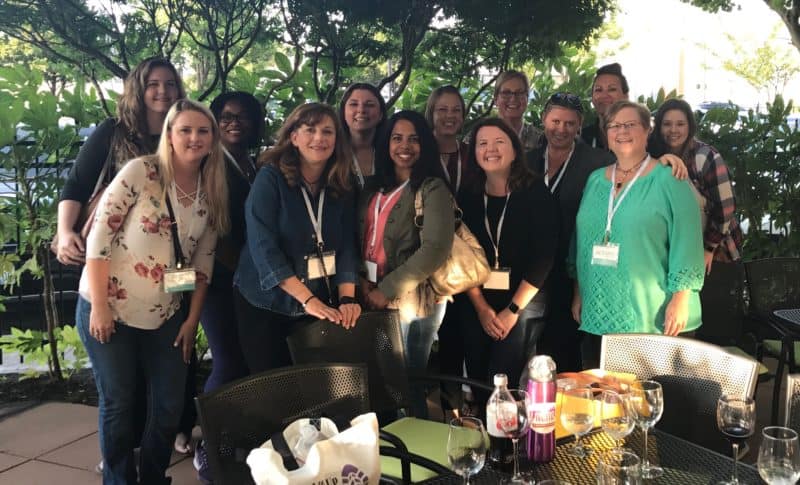 ACTIVATE: EBA Live ticket options
There are three different ticket prices for the upcoming conference in 2018. The structure has changed some, so I can't compare my ticket and pricing from the 2017 conference to the 2018 conference.
Here are the ticket options:
For 2017, I selected the VIP Event + Workshop, which was the most expensive option and similar in price to the $1197 ticket. As I didn't fully take advantage of the VIP, I probably would opt for the middle priced ticket for the next conference.
If I could really pick my ticket, I would love to see an option for just the pre-conference workshop! 🙂
This was the most beneficial part of the conference for me and where I learned the most for my blog and business. I also struggle during longer conferences and like short, 2 day conferences in general where I can get in and out without being gone from home too long. Plus it's a little cheaper for hotel/lodging and overall travel expenses.
ACTIVATE: EBA Live – is it worth it?
I'm a firm believer that if I can invest in something, learn just one thing, implement it, earn my money back and then some, it's a success.
ACTIVATE: EBA Live more than paid for itself because I learned so much. I refer to my notes from the conference on almost a daily basis! I'm constantly trying to improve different things with my blog and business, and my notes are golden!
When dissecting all my notes, I focused on what would be the easiest thing to implement that would pay off the fastest. So I did it. And now I'm working on a LONG list of other actionable steps I can take for my blog and business.
Basically, I feel like I have months of work that I can do to improve my blog and business. This gets me so fired up that I have so many things to do that can only help me grow!
Don't forget – building real life relationships has its perks! It was so nice to be surrounded by go-getters and talk to Ruth. Plus I was definitely feeling inspired by all the amazing things other people were doing. Love it!
If you are ready to learn more, here's a few things you can do to get started:
If you don't have a blog, you need one. Read this tutorial to get blogging ideas and instructions on how to start a blog.
Check out these free resources to help you get started with blogging:
Sign up for the waitlist for Elite Blog Academy. Ruth will send out emails periodically that are full of tips and advice, as well as information about EBA: ACTIVATE Live.
Have you taken EBA? Are you thinking about going to the EBA: ACTIVATE Live Conference next year?