December 2016 Online Income Report
I'm really excited about my online income reports lately, as they've been steadily increasing. I also have big news to announce, which I will get to below.
In December of 2015, I made a little over $4,000 in online income. I'm excited that I nearly TRIPLED my income in December 2016. Crazy, right?
Here are some previous online income reports:


Breakdown of my December online income report:
I am over the one year mark for blogging full time! December was my fourteenth month freelancing full time. Starting this blog has changed my life and I can't imagine doing anything else!
$716.87 Ad revenue (this amount decreased as I removed some ads from my site)
$550 Partnerships/Sponsorships
$6,916.21 Affiliate Income
$1,935.20 Courses + products
GRAND TOTAL: $11,195.28
I feel great about my online income. I've worked hard this year to decrease my freelancing and grow my affiliate income. At the start of the year, freelancing made up 90% of my online income and I was earning very little with affiliate income. It took several months to get this switched around!
If you need help growing your affiliate income, this course can help you make more money.
The biggest reason for doing this was because I wanted to free up my time. Freelancing is hard work and time consuming! I wanted to have more time to focus on my own projects, like creating courses.
If you want to keep track of your online income (which I highly recommend) check out Freshbooks! It's what I've used to track business income, expenses, invoice clients, and more. Click here to learn more about Freshbooks.
Monthly Expenses
These are my December expenses:
$0 Tailwind. I pay for this annually. Tailwind is the scheduler I use when I do all my pinning on Pinterest. It's my favorite scheduler I use for my clients and myself.
TOTAL EXPENSES: $392
This month my expenses were about 4% of my budget. Overall, I was really lean with my spending in 2016, averaging around 8% of my monthly income going towards expenses. I was really cautious with my spending and still had great overall results!
Online income breakdown
This income amount is the grand total before I deduct taxes. Right now I am putting away 30% of each paycheck I receive. If I break this down into sections of income, it looks like this:
9.5% freelance income

90.5% in ad income, products, affiliate income
This is awesome, because a year ago, my income was 95% freelance income. In order for me to quit my day job, I had to rely on freelance income for me to make the leap because I didn't have any substantial income from my blog that I could rely on. Over the past several months, I've worked hard to switch this around and my efforts have paid off! 
Courses and products
I'm really happy with my courses and products.
I've created:
Creating something of my own has been huge in growing my own blog. I've helped hundreds of people as well as have been able to earn income from this. It's a win-win!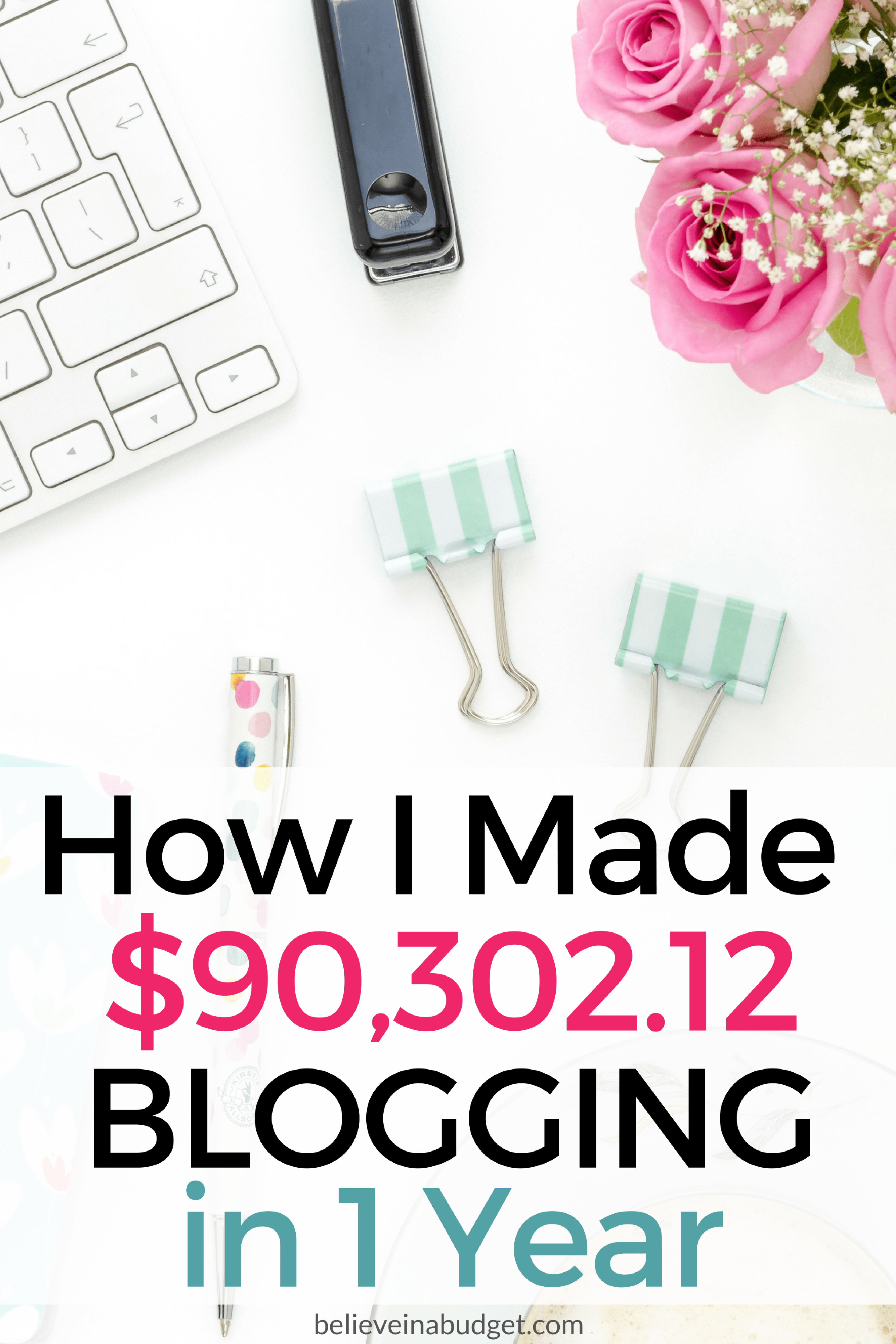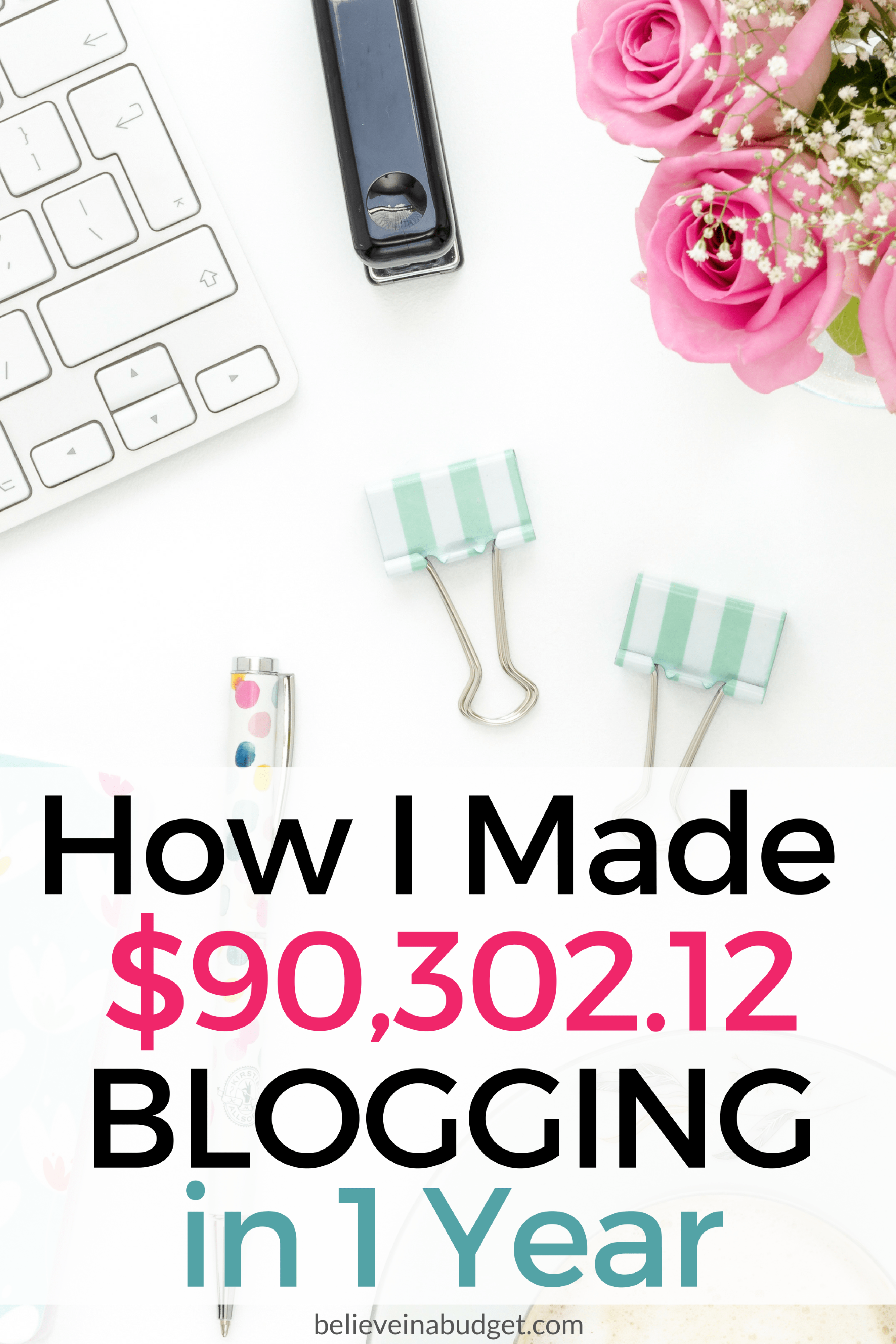 Total Online Income Earned in 2016 – $90,302.12
2016 was a great year. I made $90,302.12. This does not include any income I earned outside of blogging, such as consulting in my real life career niche or side hustling. Here's what it looks like per quarter:
Quarter 1: $12,470.65

Quarter 2: $22,889.31

Quarter 3: $25,853.29

Quarter 4: $29,088.87
The future of my online income reports
Big announcement! I'm not going to be publishing my online income reports in 2017. I'm fine discussing my income with fellow bloggers via email or in Facebook groups, etc., but I'm not comfortable writing a public monthly post about it anymore online.
Truthfully, I haven't enjoyed writing an income report in a few months and have started dreading them. That sounds weird to write, because I've been increasing my income each month and things are going great!
The main reason behind this is that I've started opening up more in real life and don't want my real life acquaintances to know my online income. I might still share my income in newsletters, but I just don't know still. I enjoy tracking my progress, so I might write a post for my own benefit, but not publish it. Is that weird?Can you tell I'm indecisive about this, ha! 
Overall, I'm really excited by my progress and how much I've grown with my income reports. With my first income report, which is still my most popular income post, I made around $60. I'm excited that my past couple online income reports have cleared over $10,000.
Going into January, I've already jumped up into a new income threshold, so things are going great and have never been better! 
My plans for 2017 and my word of the year
2016 was the best year ever for my business. I accomplished every goal I set out to have and January is already looking great.
My word of the year is Bold.
Amazing things happened in 2016. By nature, I'm passive, slightly introverted and do my own thing. In 2017, I'm wondering what I can accomplish by being stronger and saying yes more.
There is a lot I want to get done this year. I plan to get bolder with self-promotion, get my brand out there more and say yes to more things. In 2016, I said no to opportunities so I could focus on growing my blog and business. I am still 100% happy with this decision because I needed the time and energy to grow my own brand. This year I'm going to use the foundation I've built up and be more bold with my actions.
What are your goals for 2017? What do you hope to accomplish?