How to Create a Summer Budget and Reduce Spending This Season
This year I decided to create a summer budget so I wouldn't miss out on anything fun! Even though it gets super hot where I live, that doesn't mean I'm missing out on any summer experiences and the chance to make cool memories.
This is one of the busiest seasons of the year for most people. Whether your schedule will be filled with travel, parties and festivals, or projects around the house, you are likely to spend more money than usual over the next few months.
Summer vacationers are expecting to spend $1,000 – $2,000 while adults generally spend $300+ more on socializing during the summer than any other month.
Where will this extra money come from? No, you don't have to slave away at work all summer just to pay for any increased expenses. I certainly won't be doing that as I have a low-effort 1-hour summer side hustle challenge in full effect.
The best thing you can do to accommodate increased expenses during this time of year is to set up a summer budget and find practical ways to save. Luckily, transitioning to a summer budget isn't difficult at all. Here's how to do it.
Related reading:
Free 7 Day No Spend Challenge
Join thousands that have saved hundreds with the no spend challenge. Sign up to take the No Spend Challenge for free!
Consider Your Summer Goals When You Create a Summer Budget
The best way to ease into budgeting is to narrow down your goals. A budget is just a spending plan for your money. It needs to be based on a bigger goal or intention for your life. Maybe you have a fun trip coming up or a friend coming into town.
I also encourage you to sign up for my free sixty-minute summer side hustle challenge.
Perhaps, you want to save up for something big over the summer or cross some important things off your bucket list.
Set some solid goals regarding what you want to achieve this summer and how finances will play a role. What will you need to pay for and how much will you need to save to make your goals a reality?
Why You Should Review Your Expenses
This is the perfect time of year to review all the expenses in your budget and record any changes you anticipate. Whether you already have a budget or are just starting to create a summer budget, review each expense to determine whether it will increase, decrease, or can be eliminated during the summer.
Will your rent or mortgage payment change? Will your utility bills be different due to the weather changing?
This is also a time to consider adding new budget categories to help you accommodate the goals you set. For example, if you're planning to check out a few concerts, you may need to increase your entertainment budget.
If you want to plant and maintain a garden, you will likely need to establish a whole new spending category or increase an existing one. Say you're standing in one or two weddings during the summer.
In this case, you'll need to adjust your budget to accommodate the extra expenses associated with these activities. Try to be as realistic as possible when determining how your expenses will change.
Do some light research and planning to determine how much money you'll need and identify where you can cut costs (more on this in a bit).
When You Create a Summer Budget, Determine How Your Income Will Change
Will your income change this summer? This is an important factor when you create a summer budget, especially if you have a seasonal job or a slow season. For example, if you're a teacher, you may or may not have the same amount of income coming in over the summer.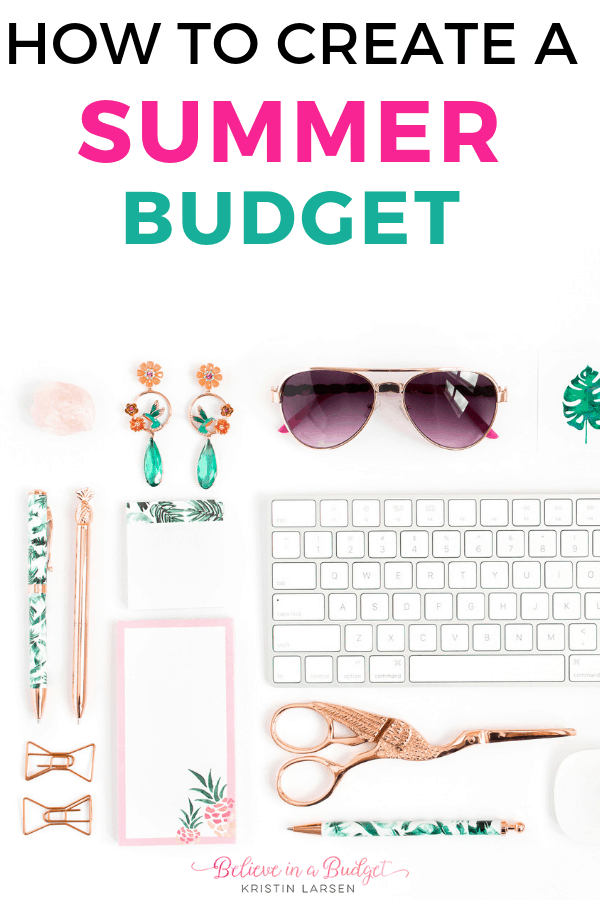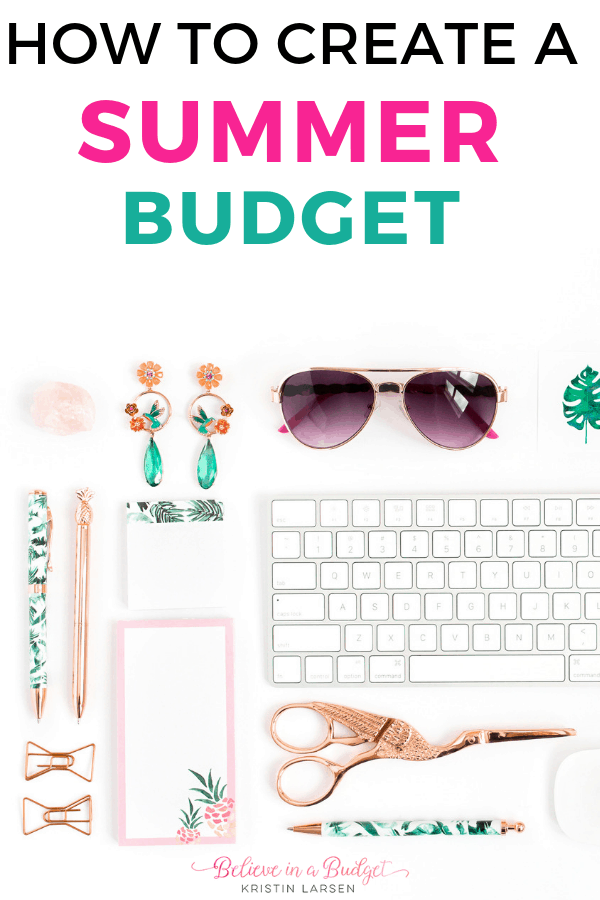 That said, you may also be on track to make more money over the summer.
If you start a side hustle or get a second job, determine how much you'll be earning and how it will be applied to your budget.
Add up your summer income and make sure it doesn't exceed your summer expenses. If it does, you'll want to create more of a cushion and free up money by lowering some expenses.
Check out some of my favorite ways to avoid overspending (and even save some money) during the summer below!
Get Cash back For Shopping
When you shop for groceries and all your cookouts, be sure to use the Ibotta app. With Ibotta, you can earn rebates for purchases at your favorite stores like Walmart, Target, and other grocery and home goods retailers.
I personally love using Ibotta whenever I shop for groceries. You can scan the app for deals to redeem. Then, do your shopping as you normally would. Hold onto your receipt and scan it on the app. About 24 hours after once your receipt is redeemed, the cash back will be credited to your account.
New users earn $10 just for signing up with Ibotta and claiming their first offer. Give it a try here.
Stay Cool For Cheap
I get that this is sometimes easier said than done. Some summer days are just way too hot. However, you don't have to blast the AC 24/7 as your first option. Try to stay hydrated by drinking lots of water and cool drinks. Turn on a fan before you crank up the AC.
Also, consider getting a small misting fan on Amazon or at Target. These things are a life saver. I've seen them at places like Disney World where the humidity is pretty intense.
Don't forget to hang out in a lot of places that have air conditioning. Coffee shops, book stores, and the library are all good places to visit if you need to relax and cool off on a hot day.
Grill Out Often
Most of us grill out during the summer anyway, but purposely do it more this year. Cooking in the summer causes energy costs to increase because you'll likely be using two energy-consuming appliances at once – your HVAC and oven.
Instead, just take it outside and grill up some delicious food during the week. Have fun testing out different foods on the grill and enjoy relaxing summer evenings spent outside.
Grilling will still cost you money whether you have a gas grill or choose to use charcoal. We have tried many grills, and this inexpensive one is our favorite. However, the cost breaks down to only $1 per hour to cook with your grill so it's totally worth it.
Replace Your AC Filters
Let's be honest, most of us will have to run our AC some time during the summer. That's totally fine and one thing you can do to lower costs is change out your air filters regularly. That way, your system doesn't have to work too hard to keep your home cool.
Air filters normally need to be changed every 30-60 days if you have pets. Luckily, they don't cost much at all.
Another thing you can do is invest in some awesome blackout curtains for some of your rooms. These shades are great for sleeping in because they block out the sun and can also be used to keep your home cooler during the summer.
Utilize Coupons and Deals For Entertainment
I love saving money on dining out and entertainment with coupons. Most people want to go out more.
There's nothing wrong with using a coupon when you go out to score a deal. Try checking out sites like Groupon or Living Social to see which offers are available in your area.
You can find local deals on everything from bowling and mini golf, to swimming, day trips, and local restaurants. Sometimes going up with a group can save you more money thanks to group discounts.
Pack Light and Opt For Flexible Lodging (When Traveling)
If you're going to be traveling this summer, you're bound to spend some extra money either on planned or unexpected expenses. You can help offset the costs by controlling what you can on your end.
Pack light if you're flying to avoid extra luggage fees. Be honest about what you really need and start preparing days in advance. These compressor bags on Amazon are awesome because they allow you to fit a ton of clothing in your suitcase without taking up too much room.
When it comes to choosing where you'll stay, see what's available on Airbnb and you'll likely spend less than you would at a hotel. I enjoy using Airbnb when I travel because it's easy to book online and a great way to get to experience the local area.
Hosts are usually friendly and welcoming plus, they offer some great deals especially if you're booking a week-long stay. Most Airbnb hosts will allow you to use the kitchen to cook and store food so this can help cut down on travel costs as well. Here is a $40 coupon for AirBnB!
Summer can be some of the most fun months of the year, although it doesn't have to be the most expensive. Work on your summer budget now before all the chaos ensues so you know what you're preparing for and how much you have to spend.
Don't forget to utilize some of these easy ways to save money every week this summer.
Do you create a summer budget? What are you most excited for this summer?