Take a Side Hustle Quiz with Interact
So, I did this thing where I created a side hustle quiz. The term 'side hustle' seems to be on everyone's mind lately. Rarely does a day go by that I don't hear or read about the word 'side hustle', whether it's on the radio, tv commercial, online, or between friends.
There are so many advantages to having a side hustle. Here's a list of why people like to side hustle (myself included):
Make extra cash
Pay off debt
Save for an emergency fund
Plan a vacation
Have extra spending money
Save for the holidays
and more!
If you are feeling overwhelmed about where to start with a side hustle, I get it! I've been side hustling for years and have tried dozens of different methods to earn extra cash.
If you are new to side hustling, don't stress it! 
I've created this fun and fast side hustle quiz you can take to see what kind of side hustle would fit your needs and personality!
[interact-quiz id="59622194a2b29600112148b9″]
If you want to learn more about side hustling, check out these related posts:
Speaking of quizzes, I love how quick and easy they are to take!
Whether you are a quiz taker or want to be a quiz maker, I thought it would be fun to show you some of the 'behind the scenes' projects that I've been working on, which includes making quizzes 🙂
How to make a quiz using Interact
I made the side hustle quiz above in about 15 minutes from start to finish using Interact. Interact let's users create quizzes, polls, giveaways, and more. I'm always on the lookout for new and fun ways to engage with my readers and a quiz seems like a great way to connect with everyone, as well as provide a better user experience.
Adding quizzes and polls has helped me with a few things:
Blog – Learn what my audience really wants to read about (and not read about!) Quiz results can help steer readers in the right direction if they don't want to perform a search on my blog.
Courses – Prior to purchasing one of my courses, a quiz can help a potential student gauge if they are a good fit for the course! The last thing I want is a student to purchase my course and have immediate regret over the purchase. A quiz can help them
 decide if this is the right course for them or not!
Existing Students – a poll can provide great feedback. As I am regularly updating my course material, a poll can let me know students would like added to a course.
When you create a quiz, poll, or giveaway with Interact, you also have the option to set up customizations on the back end. This includes things like email integrations, Google analytics, and more. If someone is new and visiting my website and takes a quiz, I like to provide the results via email!
This way the reader can receive an email, save it, and refer back to it if needed. It's also a great way for the reader to get a quick 'hello' from me with the information they requested.
Creating a quiz is also quite simple! You can customize everything – the font, images, answers, etc. Here are a few snapshots of what the back end looks like when setting up a new quiz.
First, each quiz is set up into four different areas that you can set up and customize.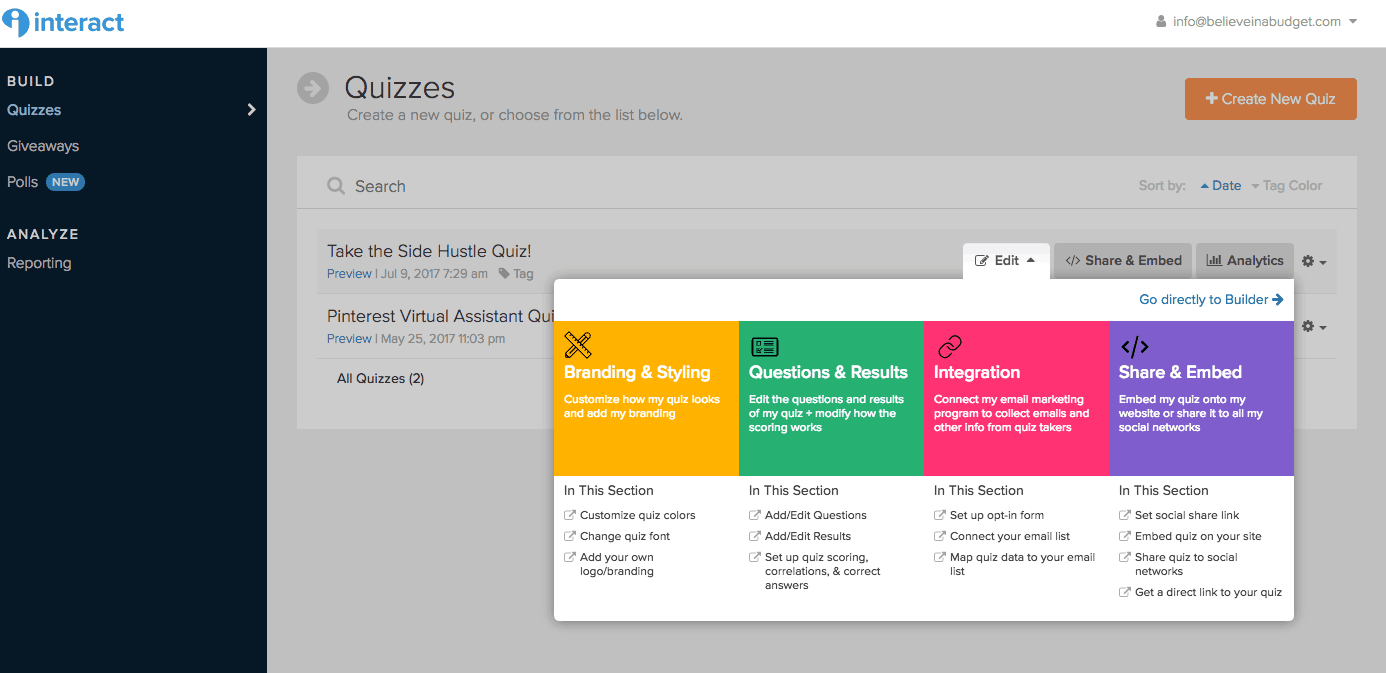 Interact: Branding & Styling
The first section is 'Branding & Styling'. This is where you can enter your blog or brand's colors, select a font, and insert an image for the cover page. I like to make my quizzes match my blog's overall theme, so I used the same color and font as my website!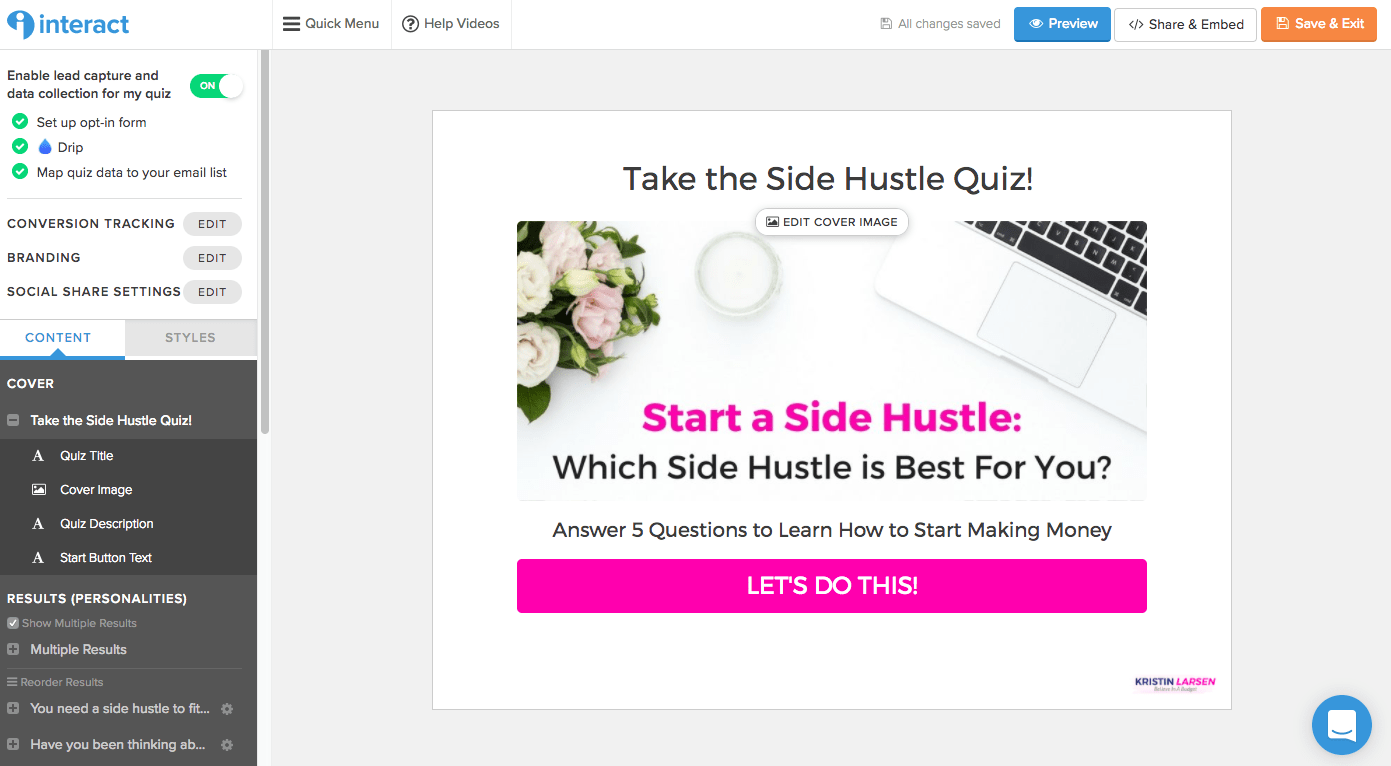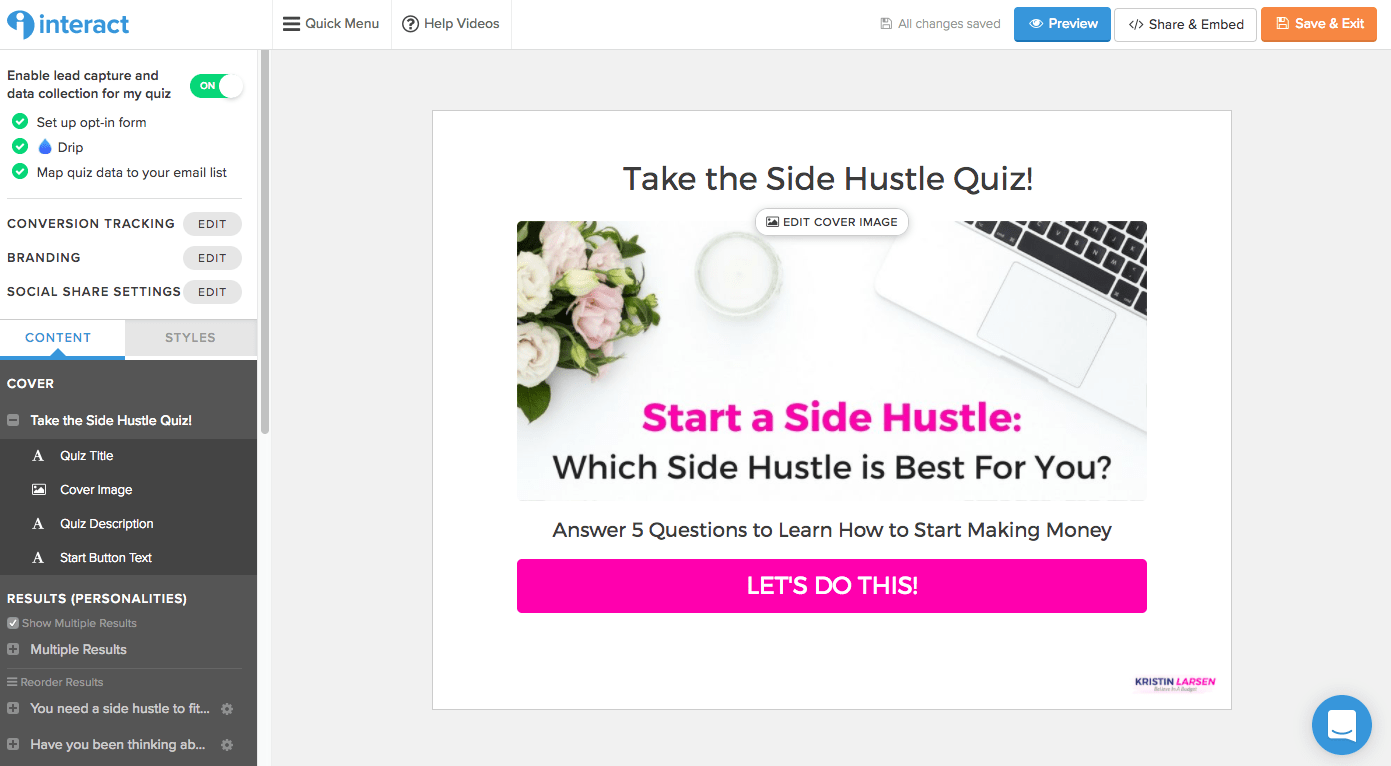 Interact: Questions & Results
The next section is where you get to write all your questions. This is my favorite part because I can really ask specific questions. While some quizzes might be 'graded' and the goal is to get all the answers correct, I also like to create quizzes where there is no wrong or right answer!
For example, if you took the quiz above, you'll know that there can be three different outcomes depending on how you answered the questions.
Each outcome is based on how you answer the question, and each outcome provides a course of action! I don't like to overwhelm my readers, so I try to limit the answer section to three different choices.
Of course, there is no limit to how many answers you can list when creating the quiz!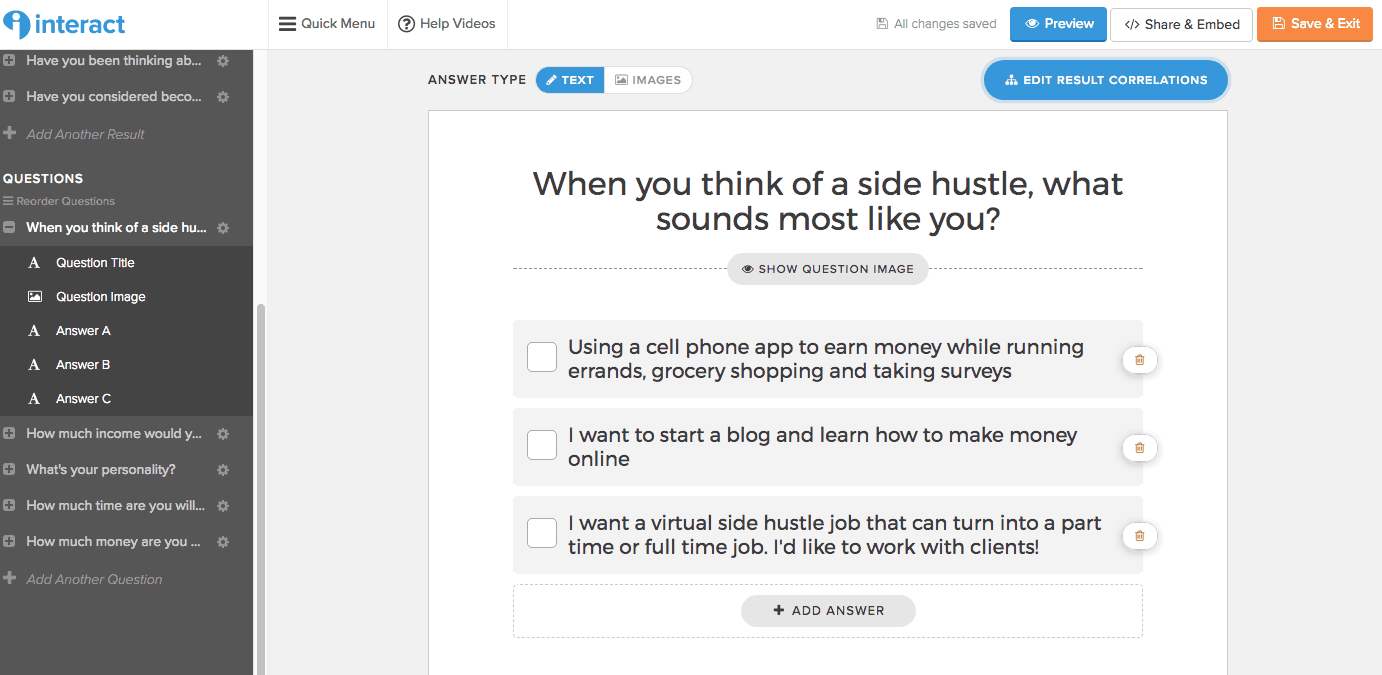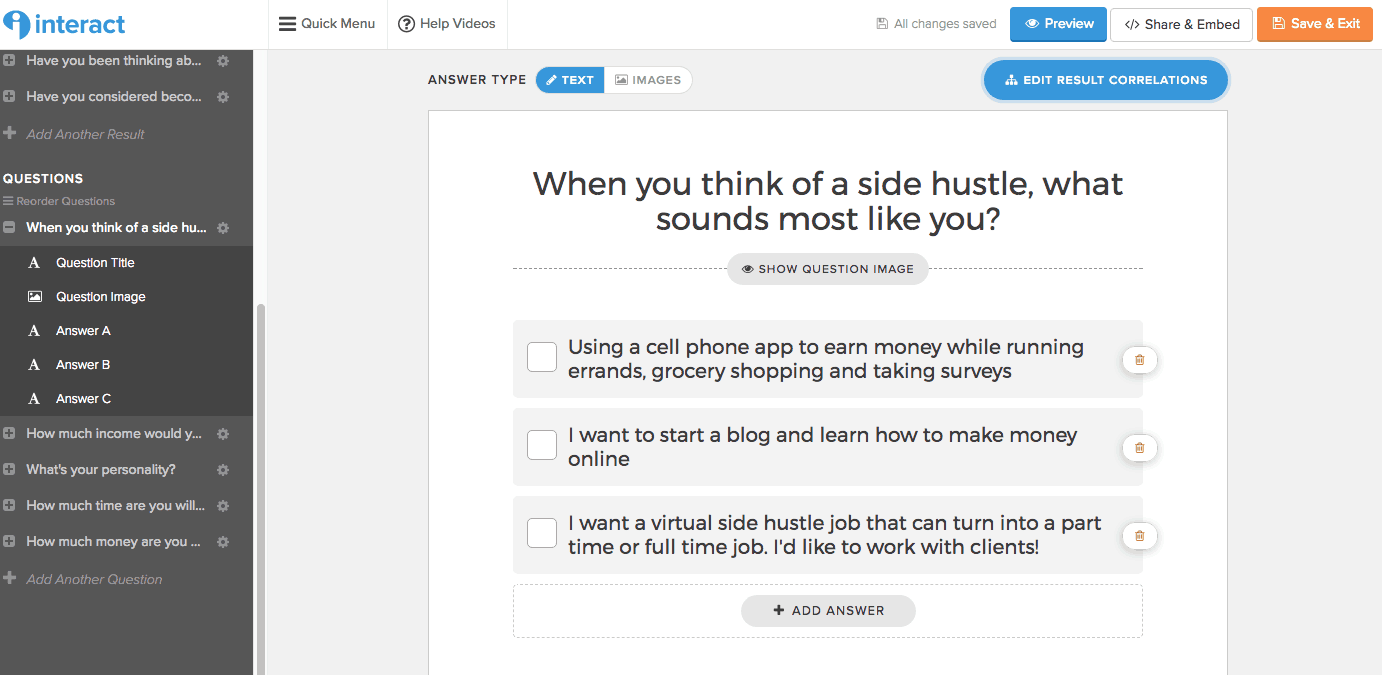 Interact: Integration
Setting up email integration is really easy. I use Get Drip, but there are dozens of email providers to choose from, including MailChimp and ConvertKit.
Once I linked my account to Get Drip, I was also able to select which email response (the funnel) the reader would receive based on the outcome of their quiz!
It literally takes seconds to connect everything!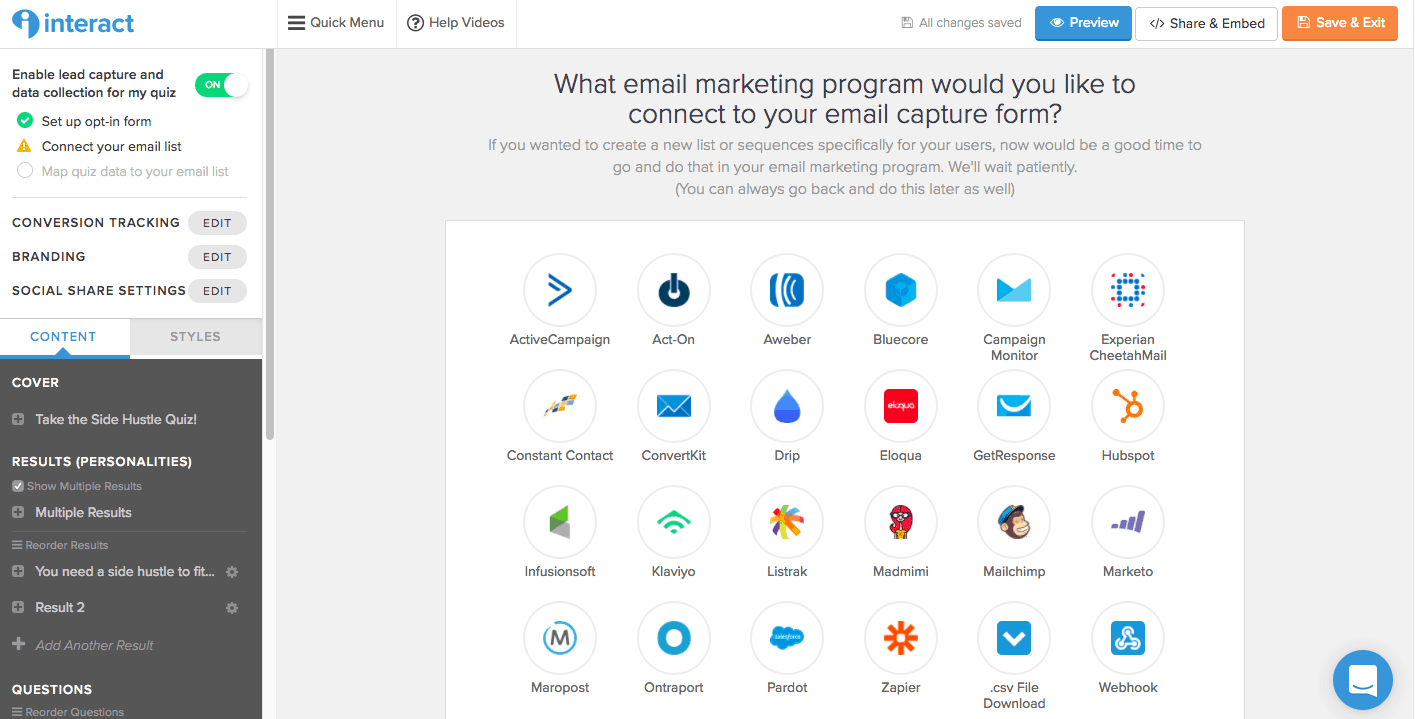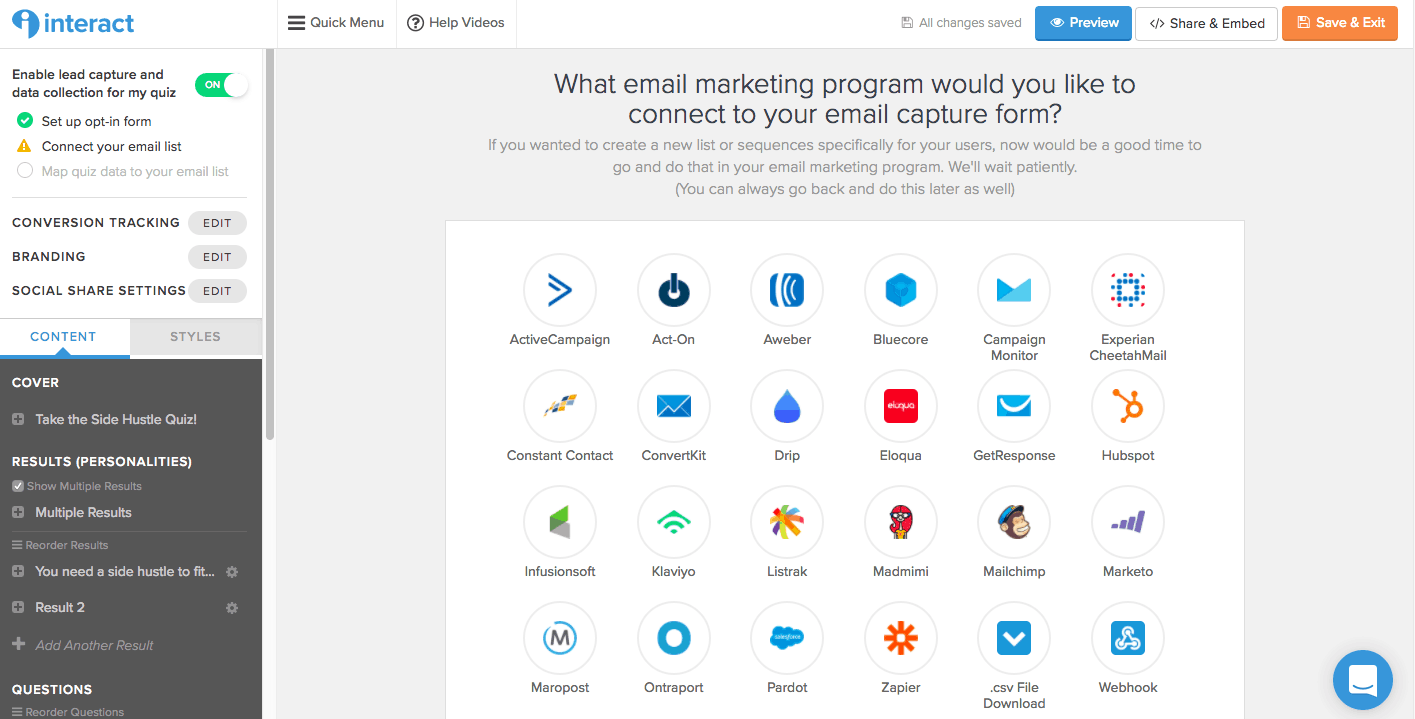 Interact: Share & Embed
Once you finish building your quiz, there are a few different ways you can share it to your readers!
Embed
Direct URL
Social media
WordPress plugin
I like to use the WordPress plugin, as it's really easy to fill out on my website. Once I finish the quiz, I just enter the quiz number below. Then the plugin gives me a shortcode that I can insert into my blog post!


Finally, make sure you take advantage of the 'social' media share option! This is a great way readers can let their friends know online how they scored from the quiz.
This helps promote your quiz and invites more potential readers to take the quiz as well.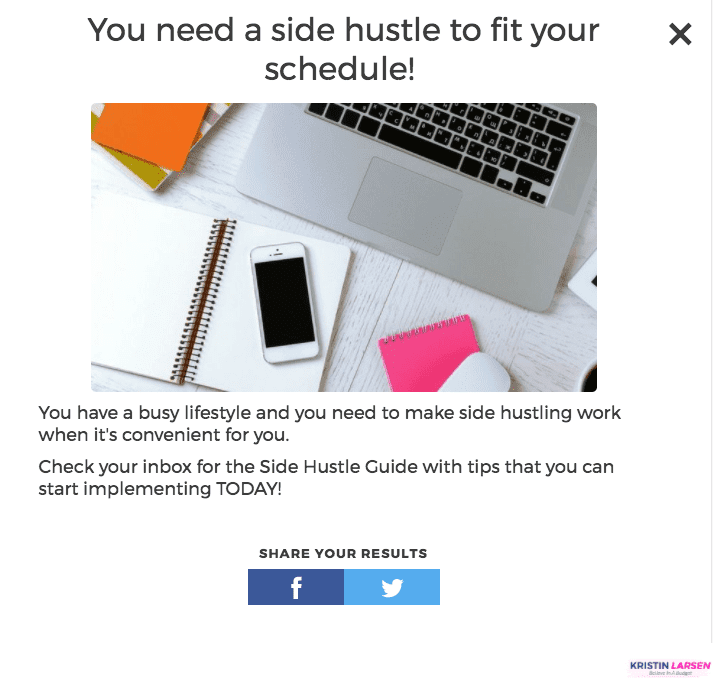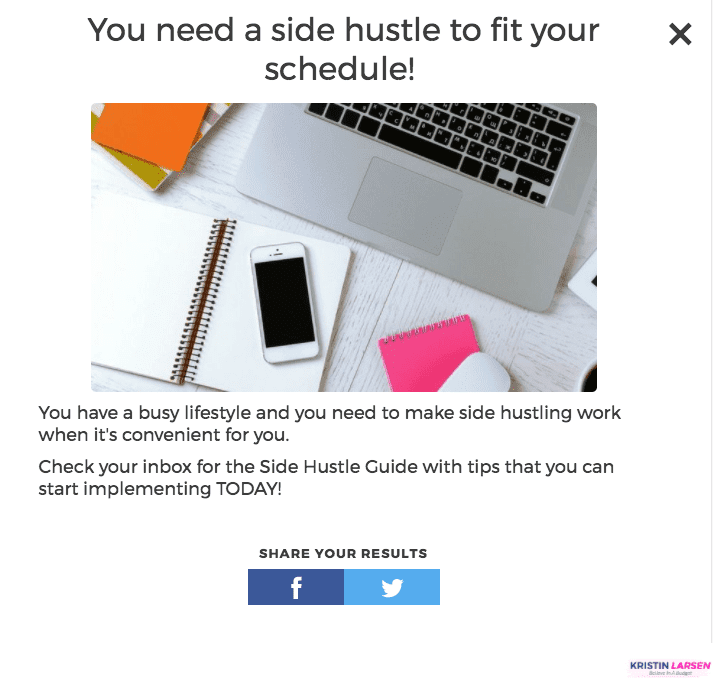 Now you have learned what it's like to take a quiz and make a quiz with Interact. If you think your blog or website needs a quiz, poll, or giveaway, you can learn more here.
Finally, since I didn't share how to create a poll with Interact (it was even easier than creating my side hustle quiz), you can check it out below – it only requires 1 answer to see the results!
The Side Hustle Challenge
Join a tribe of people that learned how to earn hundreds (and even thousands) of dollars in side hustles!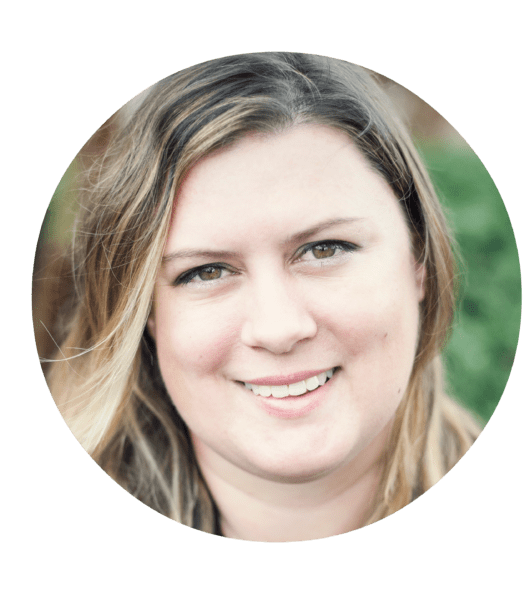 Kristin, is the creator behind Believe In A Budget. She teaches others how to start a blog and how to side hustle. Her course, Pinterest Presence, helps bloggers + businesses drive traffic to increase their website's profitability. Click here to learn more!