Tips for a No Spend Day or Week or Month
Have you ever had a no spend day or week? Ever told yourself that you wouldn't touch those credit cards?
If you haven't and you've been struggling to save money and manage your spending, you should consider freezing your spending for a few days to reset your finances and generate some savings.
I also want to share this free guide with you. 7 Ways to Boost Your Blog Income Overnight is perfect if you are trying to increase your income with a blog, a business or even a side hustle. All of these ideas are helpful if you want to get out of debt.
Incorporating a spending freeze into your schedule can be quite healthy for your finances especially when you feel overwhelmed with it all.
One way to do this is by adding a no spend day or week into your monthly budget.
These tips will help you get prepared and maximize the best results!
Please note, this post was updated in 2020.

How to Prepare for a No-Spend Day, Week, Or Month
In order for your no-spend period to be successful, you must be prepared.
A no-spend period might actually include some spending on necessary items, such as gas or groceries.
The key is to eliminate any extra spending during this time frame.
While this might sound silly, downgrade to a smaller wallet like this one. It's amazing how many cards you don't really need to keep in your wallet or use.
This also helps cut down on temptation to use a credit card if you struggle with credit card debt.
Determine the length the no spend period will last – a day, week or even month
If you are a beginner, I would start with a small goal. This leads to more success!
This could include a no spend day or weekend or my personal favorite, a no spend work week.
I find it easiest for myself to save money during the work week.
I always pack my lunch and enjoy the coffee my work provides.
On my lunch break, I try to get out of the office and get some walking in when the weather is nice.
Otherwise, I'm tempted to get on my cell phone and online shop.
After work, instead of stopping at the grocery store to grab a couple things, I'll head home instead and eat the groceries I already have.
It can be easy and tempting to swing by the grocery store every day after work, but the expenses add up fast.
Instead, try to grocery shop once a week.
If you are really looking to jumpstart your savings or pay off debt, you can really ramp up your spending freeze and challenge yourself to a no spend week or even a no spend month.
This is a great idea if you overspent the previous month and you are looking to get your finances back to normal.
Free 7 Day No Spend Challenge
Join thousands that have saved hundreds with the no spend challenge. Sign up to take the No Spend Challenge for free!
Get creative to help you achieve a no spend day or week
If you're able to carve out time to go on a spending freeze and are fully committed, that's great!
One of the hardest parts during the no spend challenge can be figuring out how to use what you have. This is where a bit of creativity can really pay off!
This can include:
using up the remaining groceries in your pantry
Ordering groceries online to avoid the temptation to overspend
if you are a business owner, get a free Amazon business account for better deals
if you like blogging and want a fun, creative outlet, read this blog post.
downloading a podcast instead of renting a movie
borrowing a book or video from the library (many times you can do this online through your library's website)
download Amazon's Kindle book to access the library's free ebooks!
signing up for an audible account
going on a walk with a friend instead of going to happy hour
clean your house and find items to sell
learn how to travel for cheap – or even do a volunteer trip where you get free lodging and food in exchange for volunteering!
make your own coffee at home
earn Swagbucks to earn free gift cards so you can treat yourself to little things like coffee. Other great survey sites include Survey Junkie and My Soap Box.
Tip: If you like to travel, try staying at an AirBnB instead of a hotel. This a fun and creative way to save money.
Over the past couple of years, I have stayed at a handful of AirBnB's and saved a ton of money.
I've been able to rent an entire house, condo and apartment instead of a room at a hotel. I even stayed in a tiny home to see what it would be like to live a more minimal life.
If you want to stay at an AirBnb, here's a coupon for $40 off your first stay anywhere!
Reassess your wants and needs
A no spend day or week or month can really help evaluate what you want or need.
It is so easy to mindlessly spend money on coffee every day or overspend at the grocery store.
By saying no to everything for a set period of time, you can really get an eye opening experience on your spending.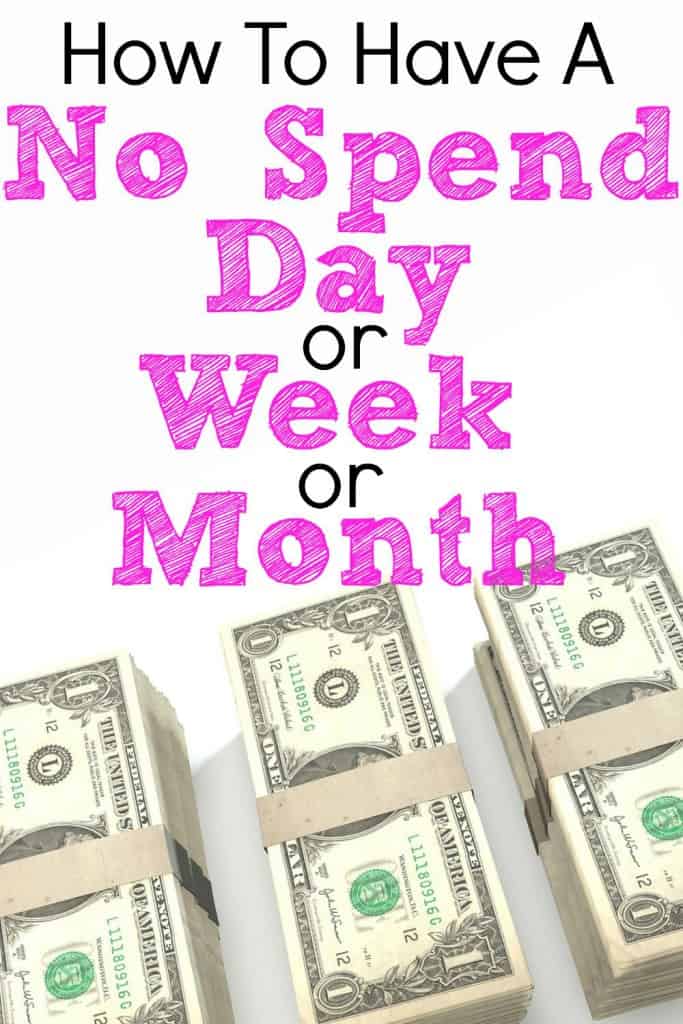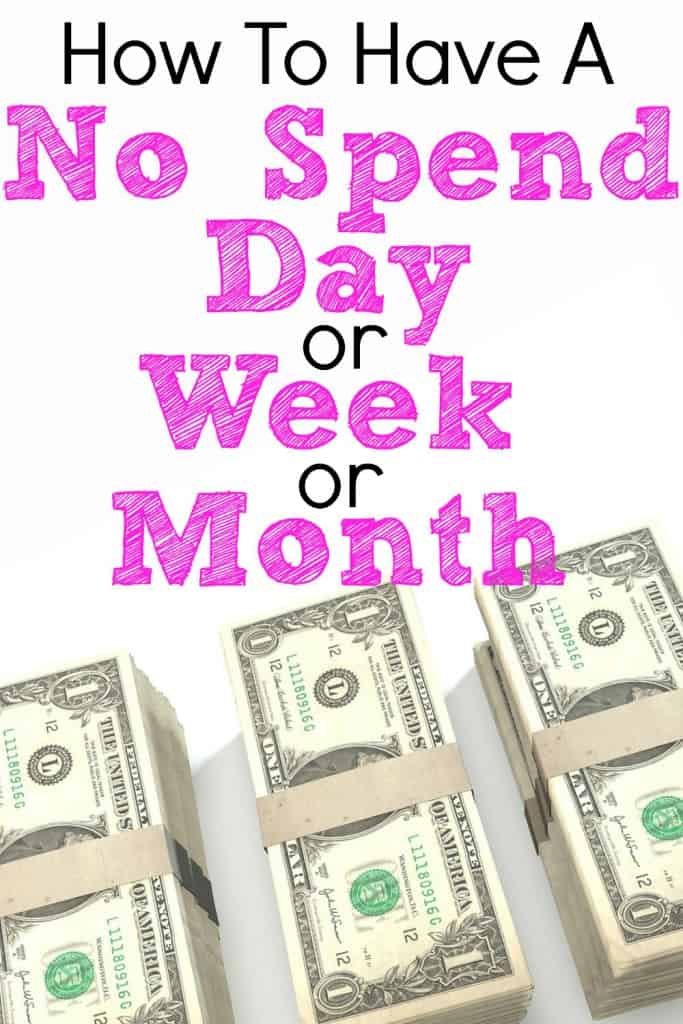 This is a great time to figure out where you really value spending money.
On the other hand, you also learn what you are wasting money on without even realizing it.
All those little expenses can add up daily.
Plus, you learn how to work with what you have.
I can't preach this enough!
Instead of spending money all the time as a solution, you may find that you can fix something so you can use it again.
This can be tricky if you aren't handy, but I bet if you get on YouTube, there is probably a video tutorial for help!
How to proceed after the no spend day or week ends
This is an important period.
You don't want to fall back into any bad spending habits or go on a shopping binge to make up for several days without spending anything.
This is a good time to look at how much money you saved during your no spend period as well.
What do you plan to do with your savings? Are you going to transfer it to your savings account or use the extra money to pay off some bills? Will you put it toward debt?
After you decide what you're going to do, take action immediately. Put the money to use right away, or you might be tempted to use it for the wrong thing.
I also recommend getting a notebook and tracking your savings. If you aren't into notebooks, create a simple spreadsheet online.
This is a great way to document your spending and savings, and it's fun to look at your progress!
Start saving, even if it's only a few dollars a week
Whether you want to start an emergency fund or a vacation fund, you have to start setting some money aside.
If you're like most people and struggle with saving, you should consider using an app like Digit.
I've just started using this app and love it. Digit lets you save money each week from your checking account.
What I really like about Digit is that it analyzes my bank account and determines how much I can really save per week.
Some weeks it might be $5 and other times it might be $10. You don't have to worry about overdraft and can contribute less or more if you need to.
As of now, I don't know an easier way to save money! You can learn more about Digit here.
How to save money if you can't do a no spend day or week
Can't do a no spend week right now? No problem.
When holidays, birthdays and travel are coming up, it can be difficult to do a spending freeze and you don't want to set yourself up for failure.
If you need to spend money in certain areas of your budget, you can still reduce your costs and perhaps earn a little money back as well.
One of the best ways to make any money from shopping is using Rakuten.
Rakuten pays you a percentage back when you make a purchase online.
While I have to do some online shopping, I always use Rakuten first because they pay cashback on purchases from hundreds of retailers. Plus, they help you hunt down coupons that you can use to reduce the price of your order.
Each quarter, they deposit all of your cash back earnings into your PayPal account. Yippee for free money!
If you are new to Rakuten, claim your $10 now (either in the form of a $10 GC to places like Target or $10 off a $25 purchase!)
Ibotta
This cell phone app helps you make money off your grocery receipts. Yup, for real!
You use it after you go grocery shopping and use your receipt. It's basically a rebate app, so you can earn anywhere from 50 cents to $5 off everything you buy.
My favorite part about Ibotta is that it's not always brand specific, like a lot of coupons are. So you'll be able to scan "any brand of bread" for 50 cents off, etc.
If you do coupon – you can STILL use Ibotta and get a rebate.
For the diehard couponers out there, this will often result in getting an item for FREE. When you sign up, you will receive a $10 cash bonus when you make your first scan!
If you are going to shop, you might as well make money doing it.
Another app similar to Ibotta is Fetch, but instead of getting cash back, you get points for each receipt you scan, no matter what you buy. You can get 2,000 bonus points just by signing up with this link.
Make money instead
If having a no spend period seems tough or if you don't want to do it on a regular basis, consider trying to start with a short time period, such as two or three days. It's really a mind-set issue!
You can also work on trying to make money instead.
Increasing your income will provide you with more money to add to your budget.
You can pay off debt quicker, and catch up financially at a faster rate.
There are so many things you could do to earn extra income.
It took me about four months from when I got started, but I was able to start this blog and made $60 in my very first income report.
In my first year alone, I made around $13,000 blogging while working at my full time job. That's a lot of extra income that helped me get out of debt!
If you are interested in learning more about blogging, I suggest downloading these free workbooks first.
They are all workbooks and guides I used in my first year blogging!
Get Paid to Be On Facebook
If you are on Facebook and want to start a side hustle, these guys can help you get started.
Most Facebook Ad specialists make a minimum of $1,000 per client per month, and only work a handful of hours in their spare time!
Take surveys while at home or on the go
This is one of the best ways to make money that won't cost you anything to get started!
I have made thousands of dollars over the past few years taking surveys online and participating in research studies.
Not all surveys are created equal. I have weeded through a ton of companies to figure out which ones pay the best. Here's a few to choose from!
Turn your home or bedroom into an AirBnB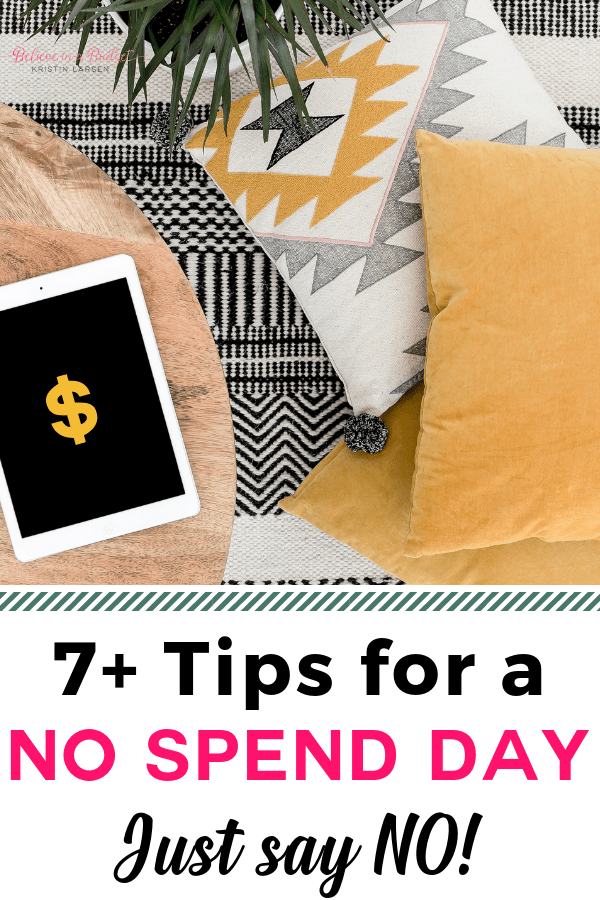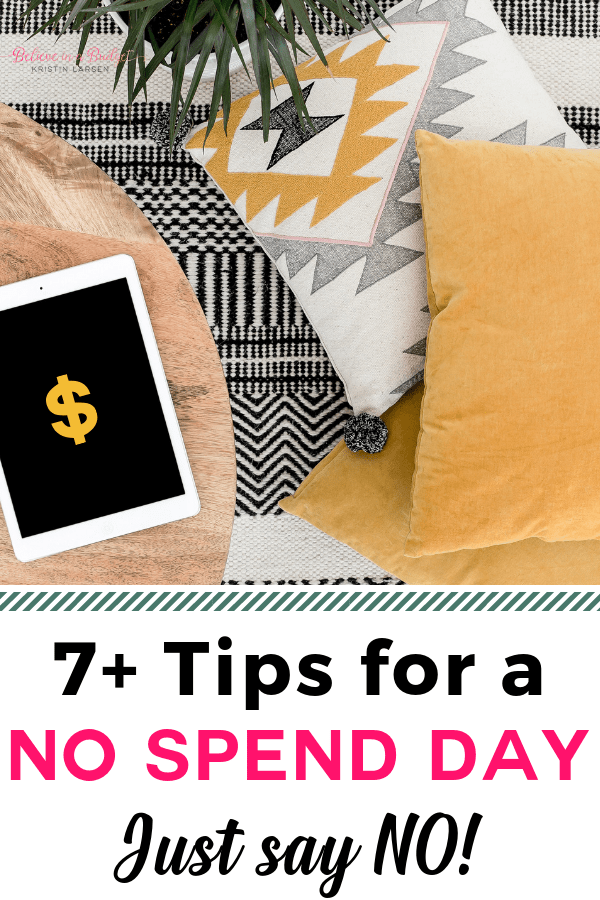 If you have a room or even a home to spare, turning your space into an Airbnb can have amazing results.
I have friends that have switched from renting out a room in their house to using it as an Airbnb and are making so much more money!
With a renter, you get a fixed monthly rate and usually enter into a month-to-month contract or one year lease.
As an Airbnb host, you can oftentimes make more income in one week via AirBnB than an entire month of rental income.
To learn more about becoming an Airbnb host, click here!
Side hustle
I have made more than $4,500 in one year in my spare time thanks to side hustling.
If you have something you would like to share with your readers that can help them – whether it's mentally, financially or physically – go for it.
Related:
Side hustling is great because it allows you to earn extra money by doing flexible tasks and monetizing your skills.
You can:
Can A No Spend Month Help You?
I believe it can! A no-spend day, week, or month is a great way to reset your finances, save a little extra money, and get back into budgeting.
I am so excited to see if you decide to incorporate a no-spend period into your lifestyle.
Ultimately, there is a good balance to be had by having a no-spend period as well as trying to side hustle and earn extra income.
✕
Free 7 Day No Spend Challenge
Join thousands that have saved hundreds with the no spend challenge. Sign up to take the No Spend Challenge for free!
Have you ever tried a no-spend day or week?