Top 20 Recipes of 2020
It's that time again! The time of year where I round up the top 20 recipes from the past year. Instead of picking the most viral or most visited recipes of the year (because algorithms can be deceiving), I'm rounding up the recipes that I found to be the most delicious. These are the recipes that I don't want you to miss! So if you haven't tried one of these 20 recipes yet, make sure to put it on your list!
Let's go!
Top 20 Recipes of 2020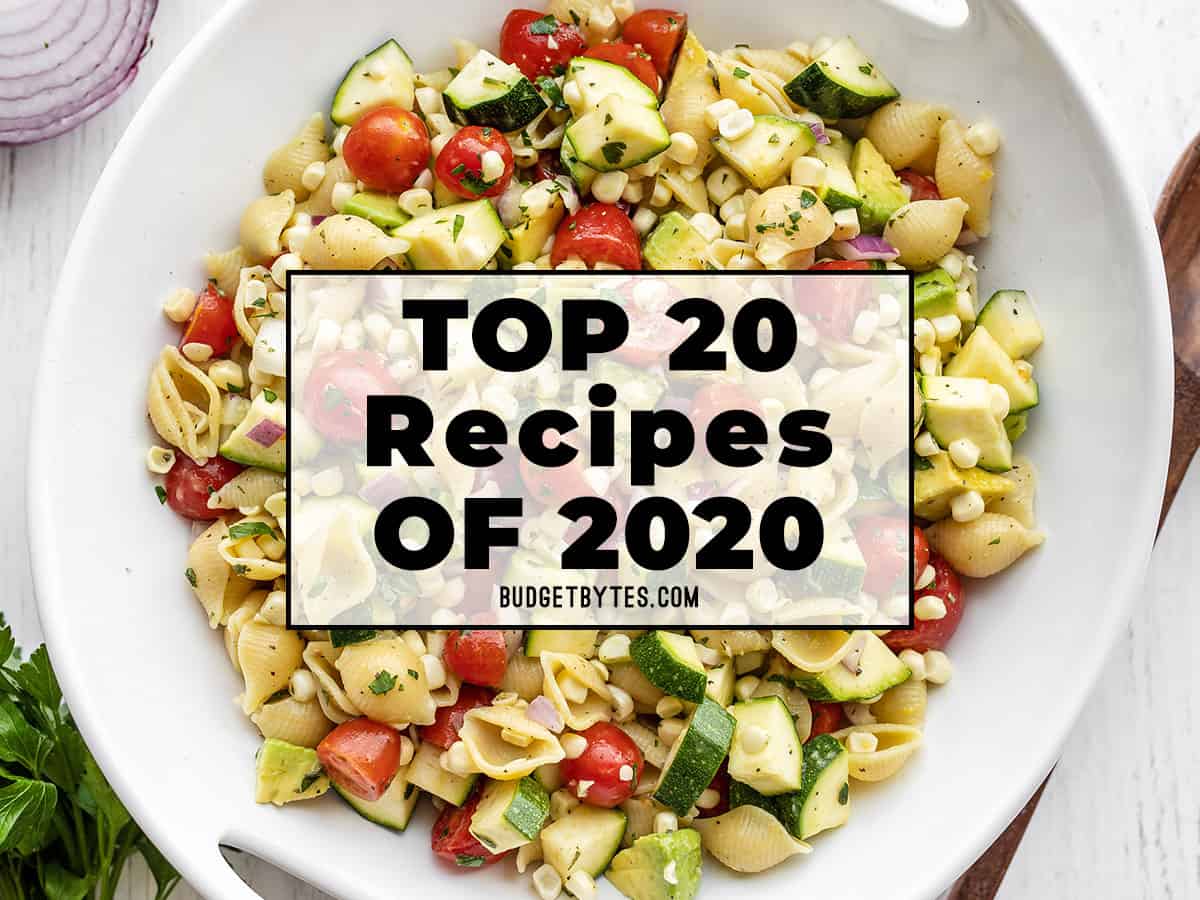 Roasted Broccoli Pasta with Lemon and Feta – This dish is simplicity at its best. You only need a few ingredients to make this pasta, but the flavor totally pops. 
---
Smoky Roasted Sausage with Vegetables – I was all about the sheet pan meals this year. This one boasts a super delish smoky vinaigrette to drizzle over top of the roasted vegetables and sausage, which totally takes it to the next level. Serve it over rice to soak up every last drop of that delicious drizzle.
---
Roasted Cauliflower Taco Bowls – There's something about super colorful meals that make them even more delicious, and these cauliflower taco bowls are a great example. So much color, texture, AND flavor in one bowl. 
---
Chunky Ham and Bean Soup – Bean soups usually require hours of soaking and simmering, but this super hearty ham and bean soup gives you all the cozy-comfy vibes in way less time. Stock your freezer with this one so you can reheat a bowl of comfort any time! 
---
Salisbury Steak with Mushroom Gravy – Try not to think about TV dinners from the 80's when you make this because I promise this Salisbury Steak is soooooo good! That gravy is everything.
---
Chicken Parmesan Meatballs – These actually made me like ground chicken. That says a lot. 😉
---
Broccoli Cheddar Chicken Salad – This simple salad was the runaway hit from 2020. It's like, "I can't stop eating this" good and the best part is that it holds up well in the fridge so you can keep eating it for days. 
---
Chocolate Depression Cake – This type of eggless, dairy-free cake has been around since the Great Depression and it proved to be just as useful in 2020, while we once again experienced grocery shortages. But honestly, it's easy and delicious at any time!
---
Yogurt Banana Bread – Banana bread is great and all, but yogurt banana bread is like 💯. The rich and creamy yogurt really takes it to the next level. 
---
Comeback Sauce – I lost count of how many times I made this incredible sauce this year. It's so good on EVERYTHING. Fries, roasted vegetables, sandwiches, chips, and more. 
---
Blackened Salmon with Zucchini – Blackening seasoning is magic. That is all. 
---
Summer Sweet Corn Salad – This one is my new favorite way to eat fresh summer sweet corn! Those fresh little kernels give you a pop of sweetness in every bite. If we ever get back to having potlucks in 2021, make sure you have this salad bookmarked! 
---
Easy Broccoli Cheddar Soup – CHEESE LOVERS PAY ATTENTION. This soup is so thick, lush, and cheesy! And it has just enough vegetable action to balance that cheesy goodness. I've been making this one on repeat and I don't get to do that with many because of how many new recipes I have to test and photograph. 
---
Cajun Sausage and Rice Skillet – This recipe like a quickie jambalaya for people who don't have time to do it the traditional way. Rice cooked with a whole heap of herbs and spices, plus smoked sausage to make everything super flavorful and rich. I just love everything about this recipe. <3
---
Sheet Pan Kielbasa Green Beans and Potatoes – As I mentioned above, I was very into sheet pan meals this year. This sheet pan meal is the EASIEST of all sheet pan meals. Even with just SIX simple ingredients, this meal has tons of flavor. LOVE IT.
---
French Onion Soup – While I love quick and easy recipes, some recipes really do require you to take your time and go slow. French Onion Soup is one of those, but it is so worth every minute. I would eat this soup on a weekly basis if I could. 
---
Wild Rice Stuffed Acorn Squash – I originally developed this recipe to be a vegetarian main dish option for Thanksgiving, but it's really so good that I would eat it any day of the week. Bonus: the filling for the squash is incredible on its own and would make a great side dish to any dinner.
---
Sheet Pan Cranberry Chicken Dinner – Sheet pans for the win again! The cranberry balsamic glaze is what makes this meal. It has only three ingredients but is so rich and vibrant. You might start making it to drizzle over all of your other meals!
---
Marinated Cauliflower Salad – Colorful, fresh, flavorful. I LOVE this crunchy vegetable salad. It's another "refrigerator salad" that you can keep on hand for lunches or snacks throughout the week. 
---
Tomato Lentil Soup – You can't go wrong with a soup that is this tasty, this inexpensive, and is freezer-friendly. This is what Budget Bytes is all about!
---
So what do you think? Do you agree that these are the best 20 recipes from the year? Is there one that was a home run for you? Share your favorites in the comments below!